The desire to decorate their homes did not give rest to the ancient people. Even living in a cave, they managed to put pictures on the walls. And about us and you can not speak. Fortunately, there are designers, painters, sculptors who can turn walls into works of art. Everything that you need to know is more detailed later in the article.
Content of this article:
Selection Features
Wallpapers - modern classics of the genre
Wall panels - a stylish solution
Ceramic tiles - glossy
TOP 5 trends wall tiles in 2019
Draped luxury
Decorative plaster - art in your home
Paints - the whole palette of design
VIDEO: We will change your walls beyond recognition
PHOTO GALLERY: The most successful wall decoration options
Selection Features
Wallpapers - modern classics of the genre
Wall panels - a stylish solution
Ceramic tiles - glossy
Draped luxury
Decorative plaster - art in your home
Paints - the whole palette of design
PHOTO GALLERY: The most successful wall decoration options
Selection Features
From ancient frescoes to modern ways of decorating walls, aesthetics have changed many times.
Walls as works of art
Now the main criterion is beauty and comfort. However, the simplicity of the formulation implies a very hard work.
Painstaking robot when decorating walls
In modern wall design there are a lot of techniques and trends. Forms have become more complicated, work with the material, and we have become more demanding. If earlier, having started repair, we invited plasterer, now we call designers and artists. Although there are methods to give free rein and their imagination. But first things first.
Unleash your imagination
Wall design begins with preparation. I do not advise saving here, because it depends on what, in the end, you will succeed and how long it will last. There are three golden rules for preparing walls for further work:
1Align.2Fill .3Zashpaklevat.
Level, zashpaklyuyte, prime
If you comply with them and entrust the work of the master - an excellent result is provided to you.
return to menu ↑ return to menu ↑
Wallpapers - modern classics of the genre
There are main types of decorative walls:
1Wallpaper, photowall-paper. 2.Panels. 3.Ceramic tile. 4. Draping with cloth. 5. Decorative plaster and paint.
Choose the material for your room
Consider in detail each item. Decorating walls with wallpaper. This option can vary from relatively cheap to very expensive. There is a choice for any wealth.
Decorating walls with wallpaper
It all depends on the quality of the source material. Simple paper wallpapers are already a thing of the past. Dense, washable vinyl, non-woven with an interesting texture or silkscreen confidently pushing them out of the market. Modern wallpaper has a high wear resistance and the broadest palette of color and artistic performance.
Choose quality raw materials
In modern wall design wallpaper is most often used for zoning rooms and to create a warm, cozy atmosphere. Zoning corrects the space and, with the help of wallpaper of different shades, you can select one zone and "hide" another.
The wall, free from furniture, is decorated with wallpaper with a bright print, and the rest of the walls are made of solid colors. This way of pasting can be used throughout the room or in a separate part of it.
Zoning rooms using wallpaper
If you want to somehow stylize the "main" wall - pick up wallpaper with a pattern corresponding to the general interior. Manufacturers offer a lot of options for photo wallpaper design. At home, you can be on the ocean, in the mountains or in the Garden of Eden with exotic plants.
The option to design photo wallpapers with decorative elements. All this beauty should not be lonely in your interior, it should overlap with some decorative elements or color solutions with the rest of the space. Return to menu ↑ return to menu
Wall panels - a stylish solution
Recently, panels have become very popular. This is due to several reasons:
No need to suffer with the alignment of the walls. Panels make the surface perfect.
Improve heat and sound insulation.
Under them you can hide the communication wiring.
Easy to install.
Durable and durable.
Durable and robust wall panels
If you like the idea with panels in the interior, then you can count on a wide variety of this type of decoration. Panels are made of plastic, plaster, natural wood. Even more textured surfaces with which they are covered. I will tell you about the main models.
Large variety of panels as one of the finishes
Laminated panels - the most unpretentious of all. They are very aesthetic, their surface is treated in such a way that the dust simply does not linger on them, just wipe with a damp cloth. Another plus is easy and quick installation. Such panels will serve you for a very long time.
Laminated panels in the interior of the room
Fiberboard panels are inferior in their characteristics laminated, but there are also advantages. They are more affordable and have a large selection of textured finishes. Get off with veneer, textiles, leather. Due to the texture perfectly combined with wallpaper.
Fiberboard panels have a huge selection of textures.
Chipboard panels have a large format and are rather heavy. For this reason, difficult to install. Most often they are used in the decoration of the walls in the hallway or hallway.
Large format for chipboard panels
The panels of natural wood emphasize the nobility and elegance of the interior. They are made of fine wood and can be decorated with gold leaf, mirror inserts or colored lacquer. Fits perfectly in a classic interior. Very presentable, but also very expensive.
I must say that all types of wall panels have one drawback. They do not tolerate moisture or high humidity.
Combination of panels with other materials
Be sure to consider this factor when purchasing, otherwise the life of your panels will be greatly reduced. Return to menu ↑ Return to menu
Ceramic tiles - glossy
It is unlikely that there is a finishing material more durable and wear-resistant than ceramic tiles. Ideal for wall decoration in the bathroom, toilet and even the hallway.
Designers are constantly updating fashionable designs and offer such patterns and patterns on the tile that the repair began to border on art. There is no modern style of interior, under which it would be impossible to choose the appropriate tile.
Choose a tile for the interior style of the room
Recently, the decoupage of ceramic or tiles has become very fashionable. Elegant idea for decorating the bathroom. Decoupage is the application or application to the tile of decorative elements made of fabric, paper, napkins. Looks stylish and allows you to make a design copyright.
Decoupage tiles for your room
Want to creative - stop your choice on the glass tile. Unusual, it fits perfectly into the futuristic interior of the bathroom. With this tile you can make an unusually beautiful partition. Such tiles can be transparent and translucent, and glossy, and matte, and color, and with a different texture.
Unusual glass tile
Stone tile is another fashionable idea. She is wonderful to finish the columns, partitions, to assemble with a tile of another texture. Will create a stylish image in a modern style. A great advantage is absolute environmental friendliness.
Big advantage - absolute environmental friendliness
Well, for dessert - 3D tiles. A masterpiece of tiled art. The unique, exclusive design you provided. A bright full-wall picture will create the feeling that this is not a tile in your bathroom, but your bathroom has moved into this picture.
A masterpiece of tiled art
At the expense of laying tiles, you can simulate space: if you put it horizontally, the space will expand, if vertically, the ceiling will "rise" optically. Return to the menu
TOP 5 trends wall tiles in 2019
1 Widescreen
Large-format tile in the Coverlam collection from the Grespania factory
2 Imitation under the fabric.
Fashionable tiles 2018-2019 can mimic the fabric
33D tile.
3D tile
4 Sandy shades.
LB Ceramics (Austria). Collection "Dune"
5 Patchwork.
LB Ceramics (Austria). TRAVERTINO collection
return to menu ↑ return to menu ↑
Draped luxury
Draperies fabric known for a long time, but only the palace nobility could afford it. Now everything is more democratic. Drapery is used to design bedrooms and living rooms. Like any other finish, drapery fabric has advantages and disadvantages.
Drapery fabric in the interior of the bedroom
I would consider environmental friendliness, simple installation, good noise absorption and the ability to avoid time-consuming and expensive work to align the walls to the big advantages. If the advantages of this decor are unambiguous, then the disadvantages are a big question.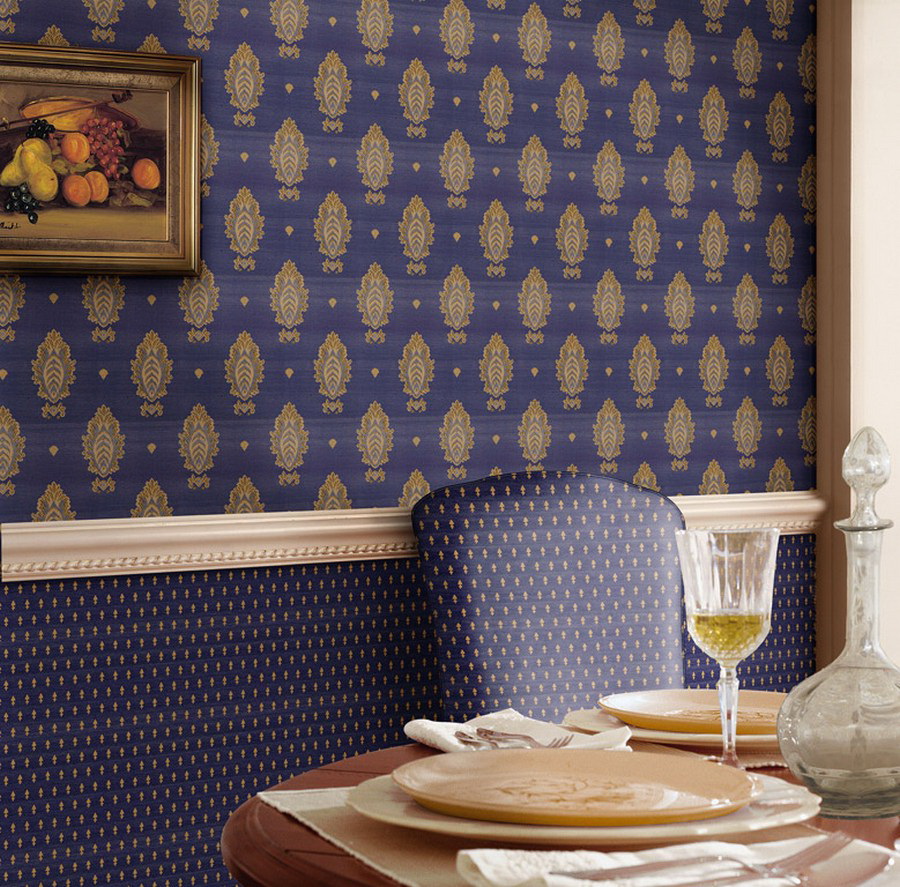 Sustainability and easy installation
Fabric is undoubtedly more expensive than wallpaper, but if you compare the complexity of installation - wallpaper will lose. The life of drapery is less than that of wallpaper, but due to the tricks of installation (when the fabric can be removed, washed and hung back), it will serve no less.
Or, they say that the fabric attracts dust. But now fabrics for decorating walls are soaked with special solutions that make it resistant to dust and dirt.
Graceful highlight in one canvas
If you like draperies and you plan to use them in the interior - choose the right fabrics: Jacquard, jute, polyester, viscose. Serve long and easy to maintain.
In general, drapery can be done even with your own hands. If not to decorate the whole wall, then it is quite possible to make a beautiful draped insert framed in wallpaper. It looks luxurious and gives the room a warm, cozy atmosphere.
Home decor draped with fabric
return to menu ↑ return to menu ↑
Decorative plaster - art in your home
From the point of view of visual aesthetics, it is very difficult to compete with such type of wall decoration as decorative plaster. Recently, this type of design has gained immense popularity.
Unusual textured plasters can be used to decorate walls in any room: be it a bedroom, kitchen, living room or hallway. They can be given any color shades and create a unique design of these sites.
Decorating the walls with decorative plaster in any room
For example, bark beetle plaster. Durable, it can be repainted. "Bark" has a beautiful texture, but due to marble chips in the composition, creates a unique pattern in the form of small grooves. This plaster is good in any room. Moreover, it can make bright accents in the form of paintings in a frame or plaster panels.
Bark beetle - accent for decor colon
"Venetian" plaster is an elite type of wall decoration. Imitating marble fills the room with a sense of luxury and wealth. Can be matte and glossy. Gloss is beautiful in the living room, and a matte version is more suitable for the bedroom.
Feelings of luxury and wealth
Like other types of plaster, "Venetian" is combined with other types of wall decor. It is important to maintain everything in the same style.
Separate decor in individual design
It is the "Venetian" who can not be trusted to anyone except a good master! It is expensive, but justified. The surface of the wall should be perfect.
Another one of the most modern and advanced types of decorative plaster is "grafito". Used in the design of walls and fireplaces. Simulates the laying of the walls and resembles a natural stone. It is very aesthetic and attractive for the most daring design decisions.
Aesthetic "graphite" in the fireplace
"Silk" plaster - the queen of the bedroom. It creates a unique atmosphere of softness and lightness. Mimics silk fabric. Often used by designers to create "airiness" of space.
return to menu ↑ return to menu ↑
Paints - the whole palette of design
Paints for decorating walls - this is a huge scope for your creative ideas. The modern market offers a huge selection of paint products for different purposes. There are basic, water-based paints. This is the most budget way to paint the walls.
Wall paints provide space for your creative ideas.
But if you want something unusual, extraordinary, I advise you to pay attention to texture paint. With their help, you can create a creative interior in any chosen style.
Textured paints can mimic different natural materials. Very well with plastered walls, creating a unique interior.
Textured paint to create comfort
I present to you a small overview of some of the species. Mizuri - contains acrylic resins. Sometimes smooth or relief, according to your desire. Used in almost any room.
Perfect finish for any room
Marseilles wax - applied with a special wax. Interesting texture imitating natural stone or tree bark. You can meet in the apartment, and in an expensive restaurant.
Textured paint always looks spectacular.
Atacama - acrylic-based paint with the addition of quartz sand and metallic pigment. Thanks to this composition, it creates an amazing velvet surface and reflects light. It can be interesting to use in the design of the room.
Velvet surface thanks to paint
Relief - easy to apply paint. On a flat, painted in the base color wall, a stencil pattern is applied with a roller. Pattern - your choice. Of all the textured paints - the most inexpensive, but very effective option.
Any drawing under the style of your interior
But paint is not just a banal painting of walls, it can be a drawing that will become a real piece of art right in your home. It can perform a professional artist, and you can yourself.
A little imagination and a desire to do something in the interior with your own hands - that's all you need. And how to do it - you can spy on the professionals. On the Internet a lot of useful information and videos on this topic. Be interested, and maybe you can handle it just as well.
The desire to do something in the interior with their own hands - that's all you need
return to menu ↑
VIDEO: We will change your walls beyond recognition
Share
Pin
Tweet
Send
Share
Send
Send